Spring General Membership Luncheon | Workplace Safety and Prevention
Spring General Membership Luncheon | Workplace Safety and Prevention
Tuesday, May 23, 2023 (11:00 AM - 1:00 PM) (CDT)
Description
This bi-annual Members-Only event welcomes Jason Arres, Chief of Police and Jim Pacetti, Crime Prevention Specialist of the Naperville Police Department and City of Naperville.
Workplace safety and prevention mean awareness and preparedness. Whether it's theft, robbery and burglary or an active threat situation where an individual(s) presents an immediate threat or imminent danger to people by displaying a weapon, having made threats, and/or showing intent to cause harm or perform violence - knowledge is power in responding.
Understand the real threats to your business and learn how to protect yourself as our experts walk us through strategies for workplace safety and active threat prevention.
Be advised this topic may contain what some deem to be sensitive content.
11:00 Registration is open
11:30 Lunch and networking
12:00 Program kicks-off
1:00 Program concludes
---
SPEAKERS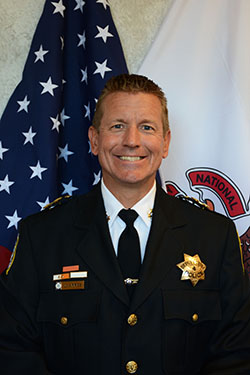 Jason Arres
Chief of Police, City of Naperville
Chief of Police Jason Arres began his career at the Naperville Police Department as a patrol officer in 2001. He served as an undercover detective for the Special Enforcement Unit, a detective in the Intelligence Unit, and a member of the Department's Special Response Team and the ILEAS Region 4 Weapons of Mass Destruction Team. Jason has held the positions of patrol, K-9 and administrative sergeant as well as patrol and professional standards commander. As a deputy chief, he led both the investigations and patrol divisions and oversaw Naperville's Public Safety Answering Point (PSAP) dispatch center. He was sworn in as chief of police for the Naperville Police Department on Nov. 10, 2021.
Jim Pacetti
Crime Prevention Specialist, City of Naperville
Jim Pacetti is a crime prevention specialist with the Naperville Police Department. He joined the Naperville Police Department in 2018 after retiring as a sergeant from the Oak Lawn Police Department. During his 30-year career with Oak Lawn PD, Jim worked in the Patrol and Investigations divisions as well as in the traffic unit, with school and community programs and as a traffic crash reconstruction specialist.
---
SPONSORS
EVENT SPONSOR
Pricing
No refunds will be issued.
Yellow box
1635 Emerson Ln
Naperville, IL 60540 United States

Event Contact
Sarah Iozzo

Tuesday, May 23, 2023 (11:00 AM - 1:00 PM) (CDT)
Categories
General Membership Lunch

Registered Guests
66
Chairman's Circle and Community Partners