Metropolitan Family Services DuPage 20th Annual Gala
Metropolitan Family Services DuPage 20th Annual Gala
Friday, May 7, 2021 (4:30 PM - 6:00 PM) (CDT)
Description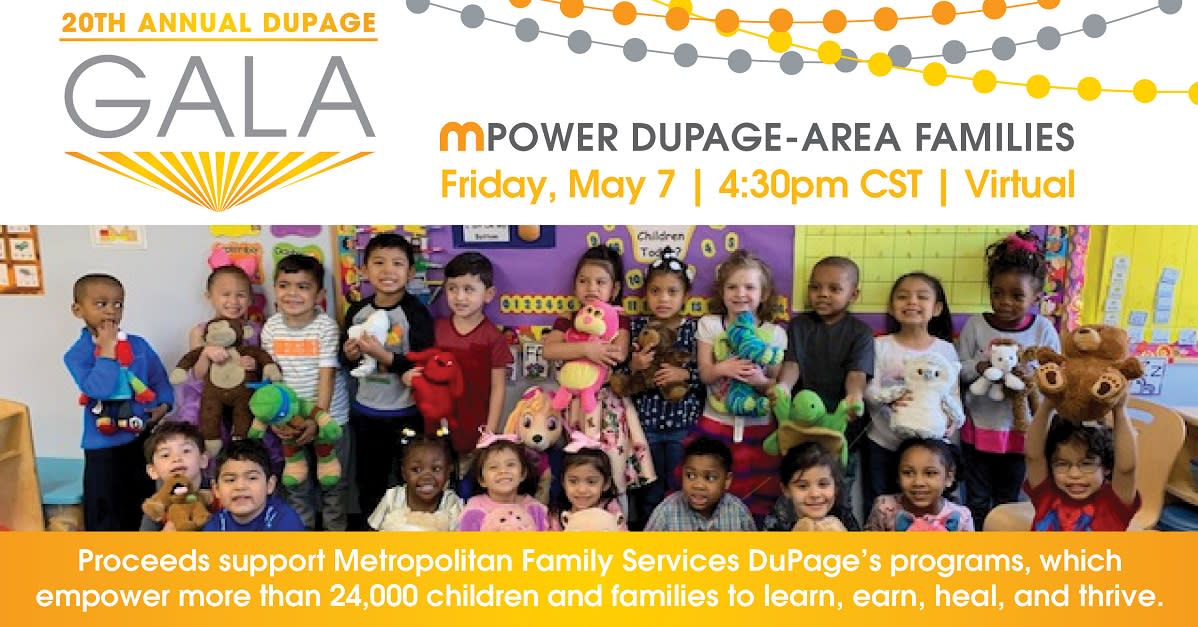 Hundreds of guests from DuPage County's education, business and philanthropic communities will assemble virtually to celebrate children and families through early childhood education services at the 20th Annual Metropolitan Family Service DuPage Gala on May 7, 2021.

ABC 7's Alan Krashesky will moderate a panel of engaged parents and expert educators on early childhood learning. In addition, Metropolitan will present its Roger K. Johnson Leadership Award to Mike Skarr whose involvement with Metropolitan DuPage spans years and multiple capacities. The early evening gathering will also feature a silent auction. Registration is free and all are invited to attend. Visit www.metrofamily.org/events/dupage-gala to learn more and to register.

This year's Gala proceeds will benefit Metropolitan DuPage's efforts to provide early childhood education (ECE) to increase learning readiness through the four pillars of ECE, child, parent, community and staff. As Metropolitan DuPage expands its early childhood education offerings and community partnerships to address these needs, Metropolitan Family Services DuPage will increase attention and awareness of the accomplishments made possible by families and individuals who participate in Metropolitan Family Services DuPage's programs and services.
This is a Virtual Event

Naperville, IL United States

Friday, May 7, 2021 (4:30 PM - 6:00 PM) (CDT)
Categories
Gala
Education

Chairman's Circle and Community Partners