Lunch with a Leader: Mary Lou Mastro | System CEO Edward-Elmhurst Health
Lunch with a Leader: Mary Lou Mastro | System CEO Edward-Elmhurst Health
Thursday, July 7, 2022 (12:00 PM - 1:30 PM) (CDT)
Description
This monthly series, limited seating, in-person event, highlights one local Community Leader/Influencer in a casual, friendly, sit-down atmosphere. Held in a private room at Sullivan's Steakhouse, both NACC and community members are given the opportunity to interact and ask questions to those that Naperville owes its past and present to, and during this lunch, perhaps share ideas on its future as well.
This month's event will be hosted by Mary Lou Mastro, System CEO Edward-Elmhurst Health South Region. This is a face-to-face meeting opportunity and is limited to 15 guests per event - so, be sure to register early!
Pre-registration is required.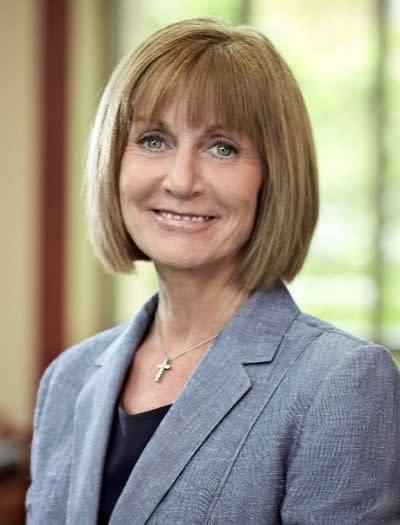 Mary Lou Mastro CEO, EEH South Region
Mary Lou Mastro served as System Chief Executive Officer of Edward-Elmhurst Health (EEH) since 2016. With more than 40 years working in hospitals and health systems, she has made it her mission to transform the healthcare experience by making it safe, seamless, and personal. As CEO, Mary Lou led the EEH merger with NorthShore, helping to enable the creation of NorthShore – Edward Elmhurst Health as a regional destination for differentiated vibrant, community-connected healthcare.
Mary Lou now serves as CEO of the South Region of NorthShore – Edward-Elmhurst Health, which includes Edward Hospital, Elmhurst Hospital, and Linden Oaks Behavioral Health. She ensures clinical, quality, experience and administrative services meet the healthcare needs of the patients and communities we are privileged to serve. In addition, Mary Lou is responsible for maintaining strong financial performance and continued growth across the South Region.
Mary Lou also manages physician relations and community boards for the South Region to further the system's goal of community-connected care. She calls upon her experience as a licensed nurse and her passion for our team members to sponsor workforce development and the advancement of nursing excellence strategies across the system.
Mary Lou earned her bachelor's degree in nursing from DePauw University and her master's degree from Rush University in Chicago. She serves on many boards, including The Boys & Girls Club of Chicago and the American Heart Association Go Red for Women. She is married with three children.
No refunds or credits will be issued.
Images
Sullivan's Steakhouse
244 South Main Street
Naperville, IL 60540-5350 United States

Thursday, July 7, 2022 (12:00 PM - 1:30 PM) (CDT)
Categories
LUNCH

Registered Guests
19
Chairman's Circle and Community Partners