Lunch with a Leader | Anita Knotts, CEO/Founder, Lotus Women's Institute
Lunch with a Leader | Anita Knotts, CEO/Founder, Lotus Women's Institute
Wednesday, April 20, 2022 (12:00 PM - 1:30 PM) (CDT)
Description
This monthly series, limited seating, in-person event, highlights one local Community Leader/Influencer in a casual, friendly, sit-down atmosphere. Held in a private room at Sullivan's Steakhouse, both NACC and community members are given the opportunity to interact and ask questions to those that Naperville owes its past and present to, and during this lunch, perhaps share ideas on its future as well.
This month's event will be hosted by Anita Knotts, CEO/Founder, Lotus Women's Institute. This is a face-to-face meeting opportunity and is limited to 15 guests per event - so, be sure to register early!
Pre-registration is required.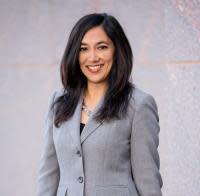 Anita Knotts
Lotus Women's Institute LLC
President & CEO
Anita Knotts is a highly accomplished senior executive with nearly 30 years of expertise in sales, marketing, and business development in the competitive wealth management market. After spending the first part of her career as a successful investment advisor followed by years of leadership, Anita is now embarking on the next phase of her career as an entrepreneur.
Anita has recently launched her new business Lotus Women's Institute LLC. The mission of the organization is to attract, develop and advance women and people of color to choose financial services as a career path. She believes strongly that firms who implement initiatives to hire diverse teams – specifically for frontline roles – will have a competitive edge.
In 2019 she was recognized by Investment News as a "See It, Be It Role Model" for diversity and inclusion as part of their annual Diversity & Inclusions Awards program. Her recognition was well-deserved, as her passion to educate, encourage and empower women to take a larger role in their financial lives drove the launch of the successful Women & Wealth initiative during her time with Calamos Wealth Management. Anita also formed the Women's Initiative Network (WIN); a forum for women associates to regularly meet and openly discuss topics pertaining to professional development and personal work/life balance. She is a frequent contributor and presenter on the topics of women and wealth and leads the Chicago Western Suburbs Chapter of Ellevate, a global professional women's network with a mission to close the gender-based achievement gap in business by providing women with a community to learn from and lean on.
Anita received her B.S. in Economics from the University of Illinois and an M.B.A. with a Distinction in Finance from DePaul University. She also holds Series 7, 63, and 65 licenses. Anita is a Board Member of Naperville Area Chamber of Commerce for Women in Business and sits on the Advisory Board for North Central College's School of Business and Entrepreneurship.
No refunds or credits will be issued.
Images
Sullivan's Steakhouse
244 South Main Street
Naperville, IL 60540-5350 United States

Wednesday, April 20, 2022 (12:00 PM - 1:30 PM) (CDT)
Categories
LUNCH

Registered Guests
16
Chairman's Circle and Community Partners